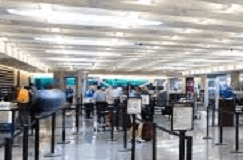 The TSA is expecting more travelers to pass through security screening at the Dwight D. Eisenhower National Airport this Holiday. To help speed things up and make the process easier on you, follow these tips:
Check in for your flight up to 24 hours before departure.
Arrive 90 minutes before your departure time, and 2 hours before if returning from a larger airport.
Make sure you have no prohibited items in your carry-on or checked bags.
Dress for easy screening.
Jeans with bling will set off the metal detectors.
Shoes will need to be removed and placed directly onto the x-ray conveyor belt.
Outer coats, jackets and bulky sweatshirts/hoodies may need to be removed if they set off an alarm.
Everything must be removed from the pockets.