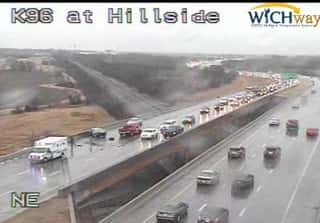 A crash on a north Wichita highway caused major traffic delays Friday morning.
Several vehicles were involved in a crash on westbound K-96 near the Hillside exit before 9 a.m. Early reports showed at least one person had serious injuries.
Westbound traffic backed up nearly to Rock Road at one point, and law enforcement began diverting traffic off the highway.
KFDI News has a reporter at the scene. We will update this story with more information as soon as it becomes available.
Photo courtesy Wichway.org