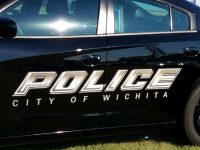 The Dollar General Store near Central and Hydraulic was robbed at gunpoint Wednesday night.
It happened around 8:30 p.m. in the 1600 block of East Central.  Two employees reported that a man entered the store, pointed a gun and demanded money.
He left with cash on foot.  No one was hurt in the robbery.
The suspect is described as an unknown black male, around 5'10" tall, and weighing around 200 pounds. He was wearing a blue zip up hoodie, dark blue pants, black shoes with white bottoms, a black mask, and was armed with a black handgun.
Anyone with information is asked to contact detectives at 268-4407, or Crime Stoppers at 267-2111.