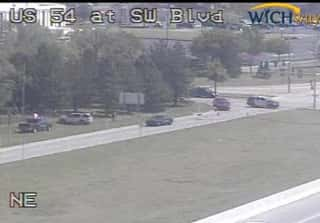 Police are investigating an armed robbery that led to a chase with the suspects in west Wichita.
The robbery was reported around 10:20 a.m. Thursday in the 500 block of South West Street.  Officer Kevin Wheeler said employees of a Sprint store were tied up in a back room during the robbery, but they were not hurt.  Officers had information on a silver SUV that left the area, and officers spotted and chased it to Kellogg Drive and Meridian.  The SUV hit a box truck and two people tried to run away, but officers caught them after a foot chase.  No one was hurt in the crash.
The ramp from Edwards to westbound Kellogg is blocked while police continue their investigation.