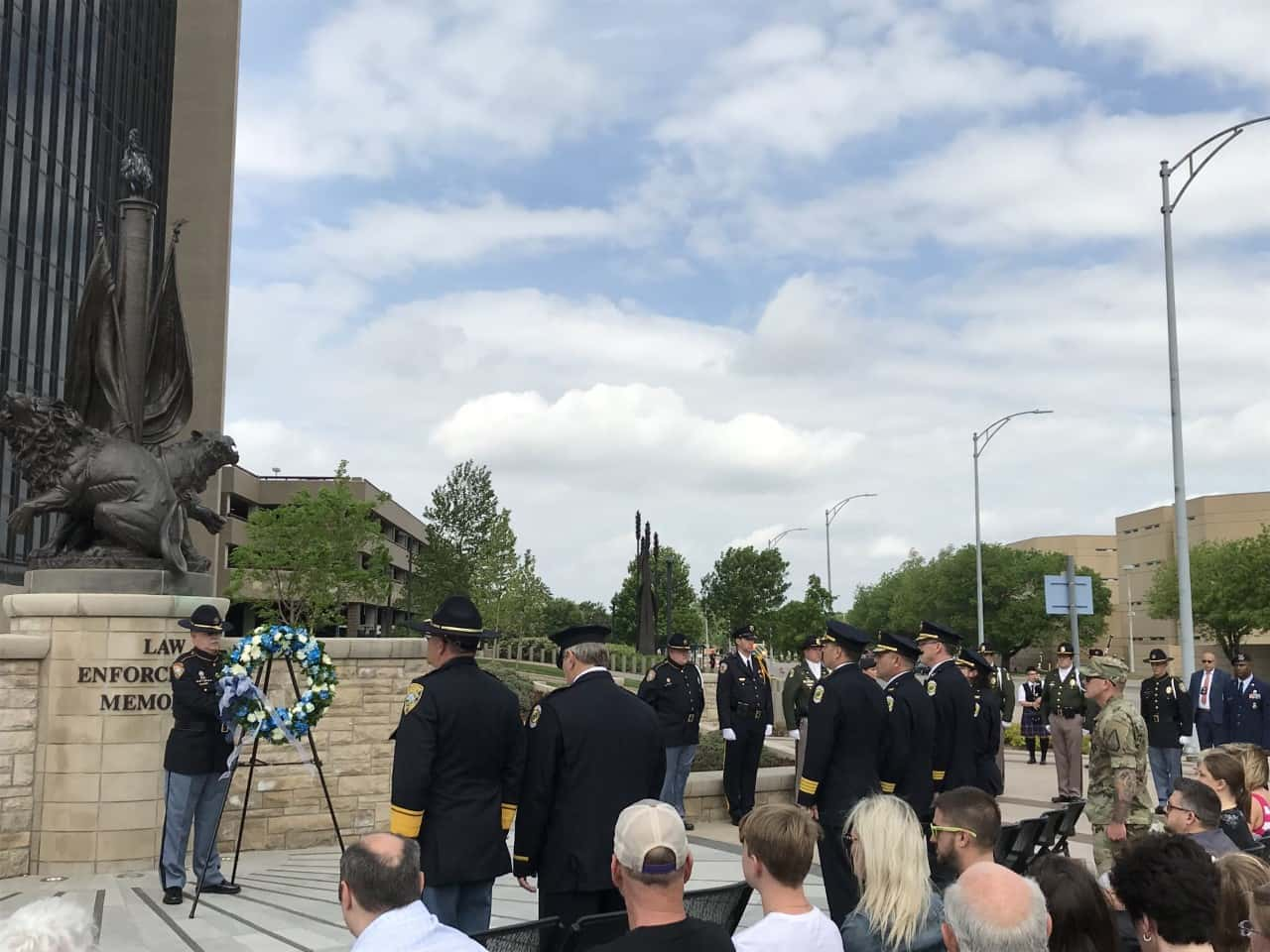 Wichita and Sedgwick County paid tribute Friday to 30 law enforcement officers who died in the line of duty.  The annual Law Enforcement Memorial ceremony was held at city hall, with the reading of the names and the presentation of a wreath at the memorial at the northeast corner of the city hall complex.
The name of Sedgwick County deputy Robert Kunze was added to the memorial this year.   Deputy Kunze was killed last September in a struggle with a suspect during a traffic stop, and the suspect was also killed in an exchange of gunfire.   Sheriff Jeff Easter said the loss of Kunze left a hole in the sheriff's department that will never be filled, and it reopened old wounds involving other deputies who recently lost their lives, but Easter said the ceremony is not about how they died but how they lived.
Easter read a letter from Kunze's widow Kathleen "Kat" Kunze, who was still in Washington with other family members after a national law enforcement memorial ceremony earlier this week.  In the letter, Robert Kunze was described as a fun-loving person with a magnetic personality that people were drawn to.   Kat Kunze also wrote that Robert was proud of his daughter Alyssa and enjoyed helping her sell Girl Scout cookies.   The letter also said that Robert loved his job and said often that one of the most rewarding things about it was the opportunities to help people in whatever capacity he could.
Wichita police chief Gordon Ramsay paid tribute to the family members of the fallen officers for their support, saying "You were there to be the calm voice on tough days and to share the joy of achievement, and you were there for the final shift, for that notification when reality set in that your loved one had made the ultimate sacrifice.  This day of remembrance is as much yours as it is theirs."
The ceremony was attended by a number of law enforcement officers and government leaders from the Wichita area, and Kansas attorney general Derek Schmidt was also present for the event.