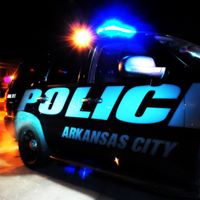 A months-long investigation into meth dealers led to three arrests in Arkansas City.
A 38-year-old woman, 46-year-old man, and 43-year-old woman are facing drug and child endangerment charges. The Cowley County Drug Task Force had been investigating possible drug dealers at a home in the 400 block of South Sixth Street.
A search warrant was executed on Wednesday and led to contact with the three suspects and an 11-year-old girl in the home. The girl was taken into protective custody.
Officers searching the home found 20-grams of what is believed to be meth and a bag of suspected weed. Items related to drug use and sale were also found.