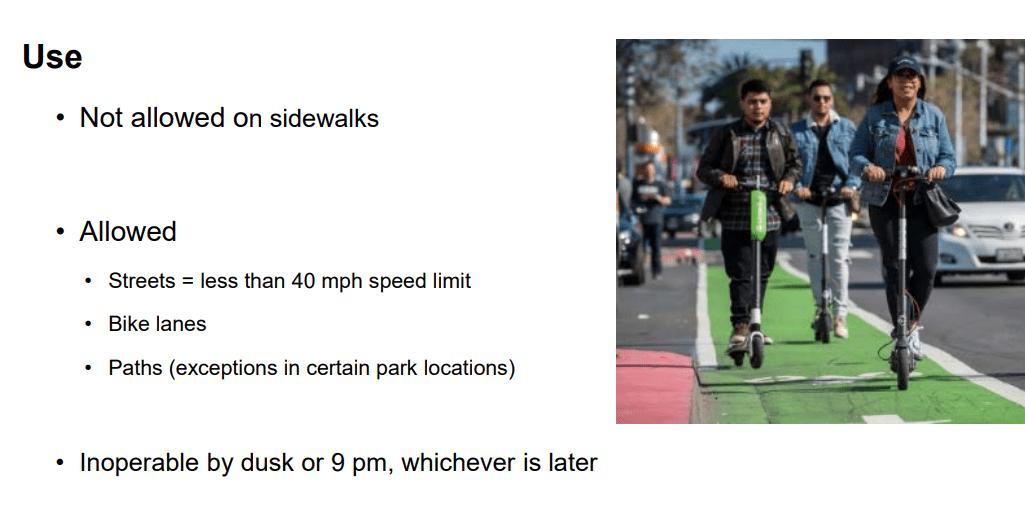 Wichita city council members have delayed final action on an ordinance to allow electric scooters in the downtown area, after concerns were raised by a man who owns a scooter and uses it for transportation.
Matt Bradshaw said he uses his scooter to get to and from work and he is concerned that the new regulations would put him at risk of getting a ticket and getting his scooter impounded.  He also said Austin, Texas allows the use of electric scooters on sidewalks if there is no bike path available, but Wichita's proposed regulations would now allow use on sidewalks at all.
City council member James Clendenin said he was shocked to see someone riding an electric scooter on a city street a few days ago, and he pointed out that the city's ordinance is aimed at companies that will bring scooters into the city for rental use.   He said a separate ordinance may be needed for people who own scooters and put them to personal use.    City manager Robert Layton said he would need to meet with city staff and talk about personal scooters.   He said some of the issues that are addressed in the city's ordinance are safety issues, but he understands the need that some people may have to use a scooter to go to work.
The council voted last week to approve an ordinance to allow companies to operate and rent electric scooters for the downtown area and possibly the Wichita State University campus.  The ordinance was up for final approval Tuesday, but the council voted unanimously to delay action for one week and more discussions are planned for their June 18th meeting on the issue of personal scooters.