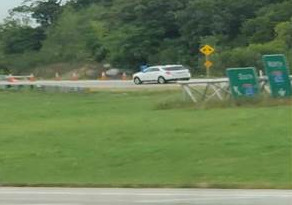 The Kansas Highway Patrol is asking for any information on an SUV tied to a shooting on a highway in Kansas City.
On September 9, a driver reported being shot at while they were driving west on I-70, at the I-635 junction. The suspect car is described as a white, Chevy Equinox, with a sunroof and paper tags. The victim described the driver as a white or Hispanic woman in her 20's, and the shooter as white or Hispanic man with dark hair, also in his 20's.
Anyone who can help identify these suspects is asked to get in touch with Trooper Christopher Suther at 913-249-0639 or Christopher.Suther@ks.gov, or Lieutenant Mitch Mellick at 913-229-2337 or Mitch.Mellick@ks.gov. ,There is also a tips hotlines that can be used by calling 816-474-TIPS.