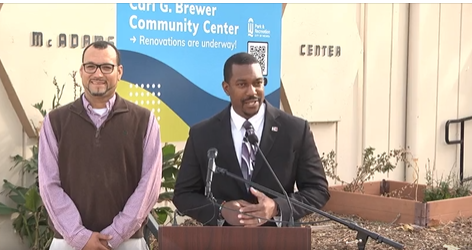 A re-dedication ceremony and ribbon cutting was held for a north Wichita recreation center that will undergo major renovations over the next two years.
The McAdams Recreation Center at 1329 East 13th Street North was renamed the Carl G. Brewer Community Center.  It's named after the late Carl Brewer, who served as mayor from 2007 to 2015.
Vice-Mayor Brandon Johnson said Brewer was also a veteran, a beloved family man and a friend to many in the community.   Johnson said the city will work to honor Brewer's legacy by making the community center an even greater place for gathering, learning and fun.   Johnson said the center was originally constructed in 1958 and it's time to reinvest in it.   He said the Brewer family will be part of the planning for the renovation of the center.
Brewer's son, Carlo Brewer, said his father was always concerned about underserved communities, and he hopes this facility can provide many services and activities for all Wichitans to enjoy.
Brewer Center